The 10th Annual North Beach Bar Run
Start Date : September 15, 2012
End Date : September 15, 2012
Time : 2:00 pm to6:00 pm
Description
PRE-SALE TICKETS ARE SOLD OUT!
Tickets will be available from 2PM to 4:30PM at NORTHSTAR CAFE (1560 Powell Street)
T-shirts and sunglasses available too!
Nine years and running, The North Beach Bar Run has grown to be the largest Pub Crawl in San Francisco! Join the CrawlSF Team and 2000 of your new best friends as we take over North Beach on Saturday, September 15th. Expect $2 Premium Beers, $2 Cocktails and $3 Shots at 14 great North Beach Bars and Restaurants from 2PM to 6PM.
CHECK-IN! 
The Crawl Starts at the Northstar Cafe on the corner of Powell and Green at 2PM. Pub Crawl participants can check in and grab their wristbands and maps between 2PM and 4PM.
AFTERPARTY!
Join us from 6PM to 10PM at the Parlor for the Official Pub Crawl Afterparty. Grab some drinks, watch some football and listen to the sweet sounds of DJ Janos!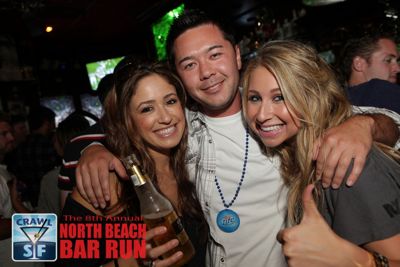 PUB CRAWL SPECIALS!
Northstar Cafe: $2 Premium Beers, $3 Obamarama Shot, $3 Wells
Boardroom: $2 Premium Beers, $3 Kamikaze, $3 Vodka/Soda
O'Reillys: $2 Premium Beers, $3 Blood Red Sky Shot
Tony Niks: $2 Premium Beers, $3 "Call Me Maybe" Shot, $3 Sailor Jerry & Coke
Amante: $2 Premium Beers, $3 Lemon Drop Shots, $3 Vodka/Tonic
Columbus Cafe: $2 Premium Beers, $3 Pink Lemonade Shots, $3 Pink Lemonade Cocktail
Gino& Carlo: $2 Premium Beers, $3 $3 Jeremiah Weed Sweet Tea Vodka and Lemonade, $3 "Knot" Shots
Savoy Tivoli: $2 Premium Beers, $3 Fernet, $3 Stoli Drinks
Tope: $2 Premium Beers, $3 Ultimat Raspberry Shandy, $3 Ultimat Vodka Drinks Tupelo: $2 Premium Beers, $3 Tupelo Punch Grant & Green: $2 Premium Beers, $3 Wild Tea Kamikaze, $3 Whiskey/Coke
Maggie McGarry's: $2 Premium Beers, $3 Rum Punch
Dell 'Uva: TBD
Giordano Bros: $2 Premium Beers
Organized by
Event Categories: Crawls, Featured, Food, and Nightlife. Event Tags: Amante, CrawlSF Pictures, North Beach Bar Run, northstar Cafe, Pub Crawl Pictures, San Francisco, Savoy Tivoli, and sf.
Related Events
BUY TICKETS AND TABLES HERE! It's not often that we have a year where our ...

The 4TH Annual Eye Heart SF Mardi Gras at PUBLIC WORKS ///// 9pm - 3am+ curfew ///// ...

TICKETS AVAILABLE NOW! Eye Heart SF | Vital | Zazzle | presents The Official ...